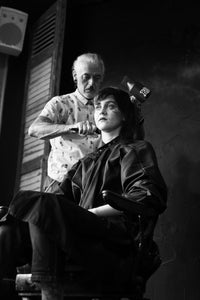 Book a slot in the salon by choosing a date and time. 
OR if you'd rather chat about your hair online - you can message me on instagram HERE
We are a members-only secret hair salon tucked away in the centre of Bournemouth. 
Salon membership is free and open to anyone to apply! 
In order to become a member, you'll need to attend a free consultation (either over Instagram or in-person) with  Anthony Alden-Clift who will be glad to welcome you to the salon. 
Every consultation is a special and memorable experience. 
The one-on-one consultation is a good chance to get to know each other and really connect and have a good chat about your hair needs.  
If you are successful you will leave with the secret code so you can book in whenver you like online. 
We look forward to meeting you!