NEW HERE?
We are a members only hair salon, in a secret location, in the centre of Bournemouth. 
Book your free consultation today so we can get to know you and your hair before you become a member.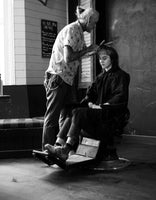 WE ARE BLUNT
We know we do the best hair, but we also know that if everyone had it it would no longer be special. That's why we've created a very unique hair studio in a top secret location in the centre of town.
We've created a unique, creative and inspiring environment for true hair art to be created, a space where we can re-define and challenge the very idea of hairdressing.
Our salon is strictly for members only, which enables us to create discreet and precious experience and a community as passionate about hair artistry as we are.
Membership is open to anyone who would like to apply.
Headed up by Antony Alden-Clift, the salon has a simple mission - to help you love , appreciate and get the most from the hair you have, rather than striving for the next trend.
PRICES
The Barber:
1hr duration, non gender-specific but only for cuts using clippers ..... £35
Short Cut:
1hr duration, non gender-specific but this is for short scissor cuts /non clipper work .... £45
Medium cut:
1hr duration, non gender-specific for styles collar length and above eg bobs.... £65
Long Cut/New look:
1.5hr duration, non gender-specific for styles below shoulders or if you're looking for a complete change of style .... £75
Blow dry:
1hr duration, non gender-specific .... £30 
Free trim:
15 min duration, fringe trim / undercut tidy .... £Free